29 07 2022 by Original Campus News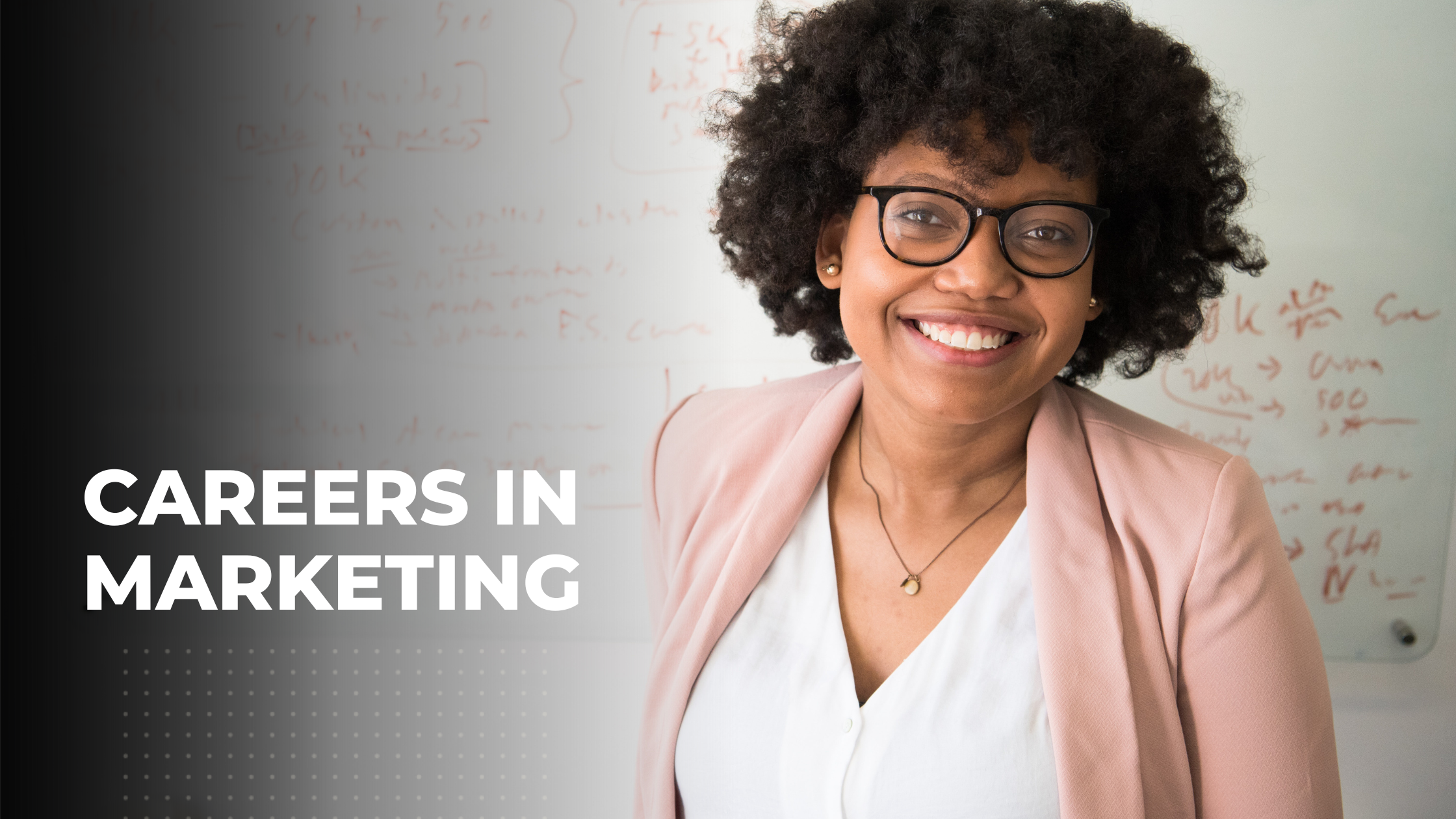 Careers in marketing can provide terrific opportunities to express your creativity, voice and organisational and problem-solving skills where you get to witness tangible results.
'Marketers are responsible for promoting a company and the product and services it sells. People who work in marketing typically organize and implement both inbound and outbound promotional campaigns that raise awareness of a brand and use marketing tactics to convince consumers to make a purchase from a company.'
One of the most exciting things about the marketing industry is that it is continually evolving, and marketing trends are always fresh, making it an interesting vocation to be in.
Jobs in marketing can span various industries. And '…marketing should be viewed as a profession with relevance across all industries. Furthermore, many individuals with marketing qualifications find employment in business-to-business (B2B) marketing roles, rather than in business-to-consumer (B2C) roles which can be perceived to be more prevalent across the marketing profession,' a Deloitte whitepaper suggests.
What marketing jobs exist?
Marketing is such a broad industry that you can find any number of jobs that incorporate traditional and/or digital marketing in the mix. It's also a great career choice because there is plenty of scope for progression in your career, as well as stepping sideways to try different roles and duties. So you'll never be bored!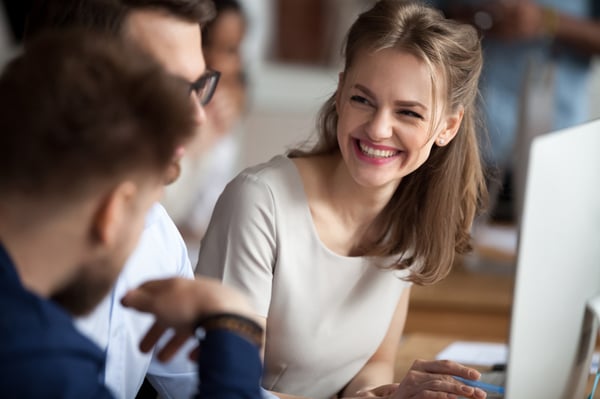 Some example careers in marketing include:
Brand manager
Campaign manager
Content creator
Digital marketing officer
Digital marketing assistant
Marketing assistant
Market research officer
Public relations
Marketing analyst
SEO specialist
SEM specialist
Advertising manager
Email marketing manager
Social media manager
A marketing role may encompass many duties and tasks. Some of those tasks can include (but are not limited to):
planning, developing and organising advertising campaigns and marketing activities

understanding and organising activities to reach target markets and audiences

coordinating or undertaking artwork, copywriting, media scripting, television and film production and media placement

working out and implementing marketing objectives

advising on all elements of marketing such as product mix, pricing, advertising and sales promotion, selling, and distribution channels

coordinating or undertaking market research

grow and monitor brand

create content, marketing or advertising strategy

stakeholder management and communication

creating new campaign ideas

preparing sales, data and analytics reports

monitoring websites and their traffic

event management

client meetings and management

and many more duties.
Advertising and marketing professionals work in industries like:
professional, scientific and technical services
retail trade
financial and insurance services
manufacturing
and more.
Opportunities for careers in marketing
The marketing industry is as consistent as it is varied. And has possibly existed for thousands and thousands of years. So it's not going away anytime soon.
In fact, it's increasing, particularly with the rise of social media marketing jobs. Globally, marketing jobs saw a 63% increase over six months at the start of last year.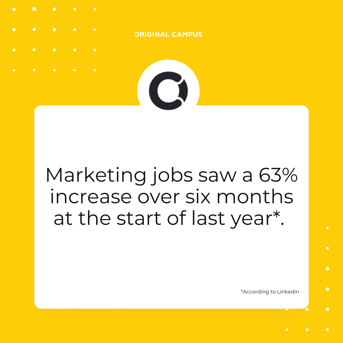 Marketing and communications had more job ads listed on Seek in April 2021 than ever before. And had nearly a 10 per cent jump compared to the previous month. And is still increasing this year.
Plus, there is a projected nearly 10 per cent growth in marketing professionals until 2025. Or Labour Market Insights project an 11.4% future growth.
The National Skills Commission has identified that a Digital Marketing Specialist is one of the 25 validated emerging occupations in the Australian labour market. Meaning it's a relatively new role frequently advertised and companies seek.
Careers in marketing earning potential
There is potential to earn a significant amount as you work your way up in a marketing career.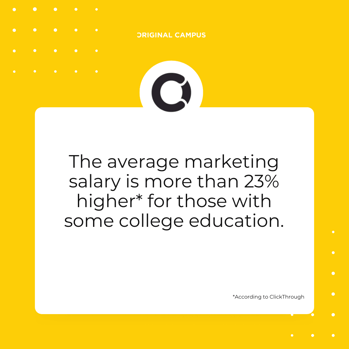 In fact, Seek has listed a marketing and communications director in the top 20 highest paying jobs at $173,939, which has risen 16% since 2021.
According to the National Skills Commission, the median weekly earnings in a marketing professional job is $1,644 to $2,133.
And the government's Labour Market Insights states that advertising and marketing professionals' average earning is $1,758 per week.
Get the advantage
So how can you position yourself well for a career in marketing?
It's really important that you have a solid education that equips you with the practical skills to become a proficient marketer. Especially since '…the core mix of technical and creative skills underpinning marketing roles are still critical for success in the job market.'
What's more, the average marketing salary is more than 23% higher for those with some college education, as opposed to those who have only graduated from high school as at 2019. So it's wise to consider quality courses when planning your future career and earning capacity.
To enter an exciting career in marketing, study the nationally accredited Certificate IV in Marketing and Communication.
24.11.2021
Want to start studying online, but feeling overwhelmed with all the information? Read on to get a clear understanding of what is online education, how different it is from in-classroom learning, the main benefits of studying this way and whether.
29.11.2021
Online education provides the flexibility to start learning from anywhere and any time you want. It's a great way to achieve your goals without interrupting your life, but before you sign on that application form, press submit and begin your.
24.06.2022
Working in social media marketing can seem like a dream career come true for many. And the truth is – it is!